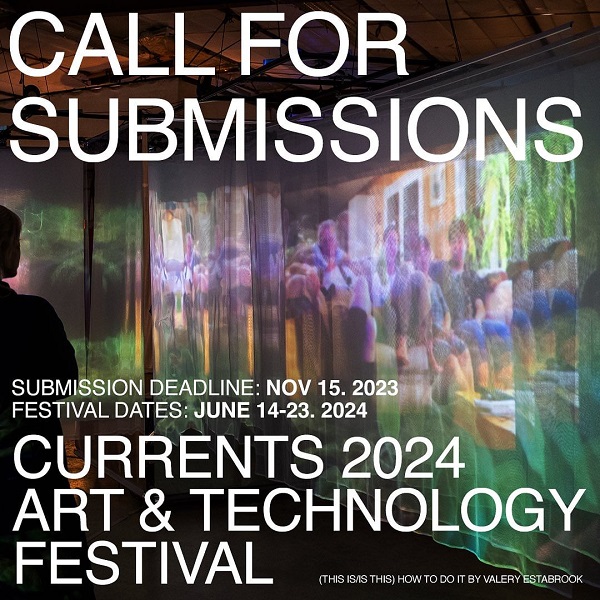 Festival Dates: June 14 – 23, 2024 / Santa Fe, New Mexico, USA
Submission Deadline: November 15, 2023
---
All applicants must submit the online submission form.
Please read these guidelines before filling out the form.
Notification Date 1: February 1, 2024
Notification Date 2: March 15, 2024
See Individual Categories for Notification Date
---
This Year's Categories Include:
Installations (Interactive and non-interactive)
Virtual/Augmented/Mixed Reality Environments
AI/Artist Collaboration
Robotics/Kinetic/Electro-Mechanical Objects and Installations
Multimedia Performance
Digitally Generated or Fabricated Objects
Wearables
Interactive Installations for Children
Outdoor Installations and Projections
Experimental Single Channel Video/Experimental Documentary/Animation
Submission Fees
Multiple submissions are welcome in one or more categories. You must submit a new form and pay the fee for each submission.
All Categories: $25 for a single and $20 each for multiple submissions.
---
Submission Form Instructions
Work Samples
Documentation of work samples must be viewable online (personal website, YouTube, Vimeo, Dropbox, etc)
uploaded hi-res photos and video still captures should be no larger than 3MB .jpg only
We will accept works in progress if you are able to submit samples that demonstrate a strong body of work
Follow these steps to fill out the Submission Form:
Fill out the general information at the top of the Form.
Select the Category in which you wish to submit your work. Each Category has a separate set of questions.
Once you have selected the Category you can fill out the remainder of the Form.
Select Yes or No to the multiple submissions' question. This will determine your fee – $25/single, $20 each/multiple.
Submit the Form.
Once you have submitted the form and paid your fee you will receive an email notification with a copy of the form you submitted.
You are welcome to submit multiple entries in one or more categories. You must submit a new form and pay the fee separately for each entry.
If you wish to enter another submission return to the this page or the Submissions Form page.
Questions about the CURRENTS application? CONTACT
Website link: Submission Guidelines 2024 – CURRENTS New Media